Almost 50% of all patients are using health technology to communicate with their healthcare providers. The emphasis on technology for facilitating communication can be considered part of a push towards fostering greater patient engagement – but what does 'patient engagement' really mean? 
There are several common approaches to the term. As a result, the definition of patient engagement can vary depending on who you're talking to. But one thing that every definition shares in common is that patient engagement involves making the patient a more active participant in their healthcare experience.
Let's explore what this means in more depth. 
What is Patient Engagement in Healthcare?
As mentioned, a universal patient engagement definition doesn't exist. But the general idea behind the term – of making patients participants instead of passive bystanders in their health care – has drawn a lot of attention and interest from healthcare professionals. 
HIMSS, a media group that caters to the healthcare and technology markets, published a survey with 72% of the healthcare providers surveyed identifying consumer and patient considerations, such as engagement, satisfaction, and quality of care, as the business issue most impacting their healthcare organizations over the next two years.
With that in mind, let's define patient engagement using two of the most common usages. 
The most typical patient engagement definition centers on patients being actively engaged in gathering information about their conditions and making active decisions regarding their symptoms, illnesses, and treatment options. 
The second common definition mimics the first in spirit, only it tends to include patients playing a role in organizational governance and healthcare policy-making by providing feedback and influencing how medical organizations operate. 
Get patients engaged with Adracare's online platform providing maximum flexibility for minimum cost.
Ultimately, patient engagement is about partnering with patients in the delivery of their healthcare, facilitated by strong lines of open communication. 
This is especially important for allied healthcare services and clinics. At a physiotherapy clinic, for example, the patient has to be a literal active participant in their own treatment. That typically means performing stretches and exercises at home in their own time, in addition to the time spent in the clinic with a healthcare practitioner.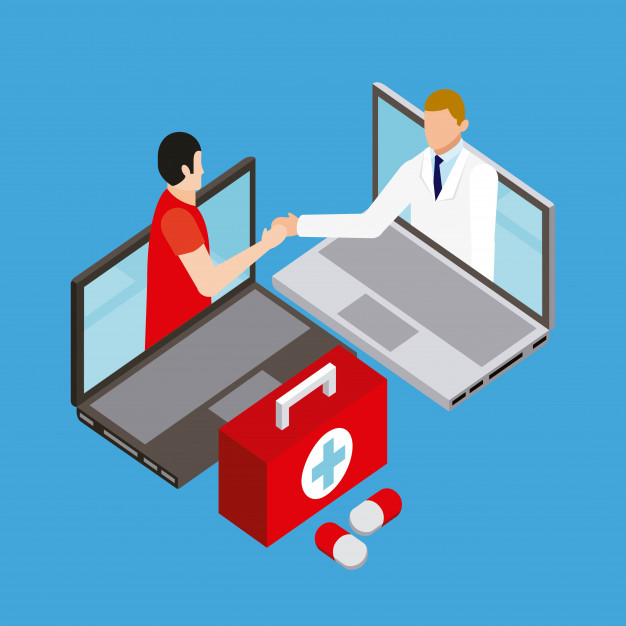 Physical therapy treatments are therefore far likelier to be effective if the patient is engaged. Moreover, by having open lines of communication, patients can more readily identify to their healthcare providers and clinics which exercises are difficult or painful, and the two can then collaborate in either finding alternative ways to do that exercise or different exercises altogether. 
In terms of patient engagement strategies, using telehealth and practice management software can be highly effective at boosting patient engagement. 
For instance, telepsychiatry has been shown to be effective at treating patients with paranoia, as they are less anxious interacting with a computer screen as opposed to having a person in the room with them, according to M.D's at UH Hospital. 
By increasing the patient's comfort levels, the healthcare provider is now more readily able to actively engage with the patient. Tools like video conferencing and screen sharing, as well as being able to freely store and grant access to documents, also help foster patient engagement.  
This shows that patient portals and telehealth, in general, can produce environments that are more comfortable for patients and therefore more likely to produce better patient engagement. 
What is Patient Engagement in Healthcare?
While research is still being conducted regarding the extent of improved health outcomes from patient engagement, early signs are encouraging. 
In one study, 60,185 patients were divided into two groups. One group received "usual" support from health coaches when making medical decisions, while the second group received "enhanced" support (they communicated more frequently with trained health coaches through telephone, mail, e-mail, and the Internet). 
The group receiving enhanced support in making those medical decisions displayed better outcomes compared to those receiving the typical amount of support. The group with enhanced support experienced the following benefits:
Total medical costs down by 5.3%
Inpatient admissions 12.5% lower
ER visits 2.6% lower
Surgeries 9.9% lower
Heart surgeries 10.9% lower 
Another study found that patient engagement can inform patient and provider education and policies, which in turn can enhance service delivery and governance. When patients were more engaged, not only were they able to improve healthcare service delivery, but the patients themselves also felt an increase in self-esteem and involvement.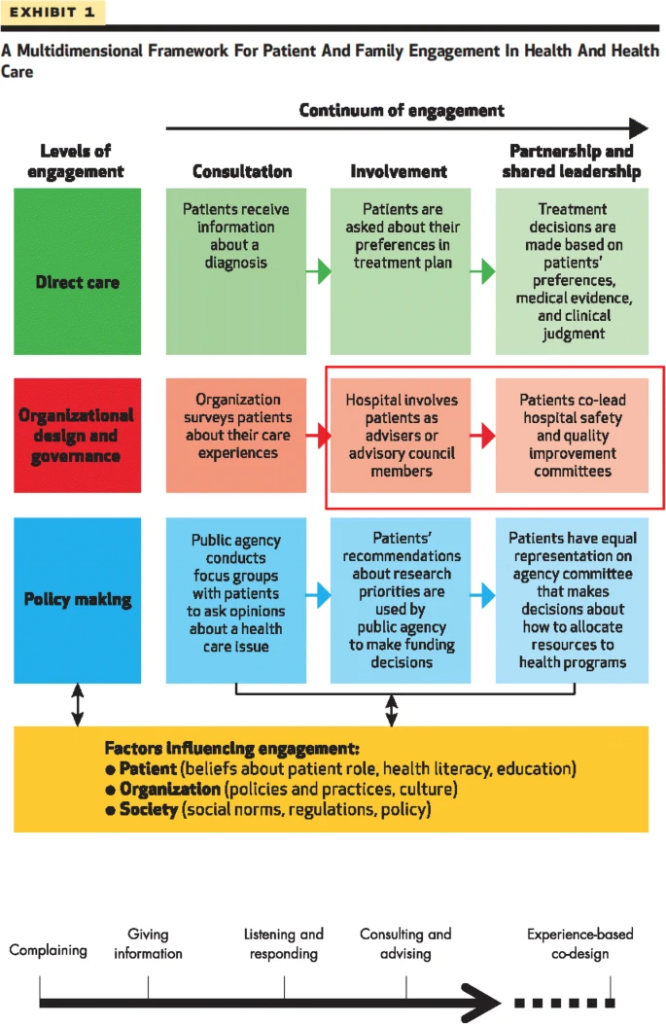 (Source: Implementation Science, 2018)
Even though patient engagement is largely endorsed by providers, that doesn't mean it's necessarily easy to implement. 
The good news is that as telehealth and practice management software continues to evolve, we're seeing more opportunities to increase patient engagement. That includes addressing the above time concern by making the process much more intuitive and user-friendly, saving time overall. 
For example, let's take another look at physio. Telehealth portals provide a variety of tools that can help boost patient engagement and improve outcomes, such as:
Online document sharing so the patient can access exercise instructions anytime
Screen sharing that bolsters communication 
Video recording allowing the patient to review exercise/stretching instructions or treatment plans whenever needed
An open line of communication grants providers the ability to frequently check in on the patient and help foster their engagement throughout treatment,improving rehabilitation 
The tools above can be applied across different allied healthcare clinics to augment patient engagement and improve outcomes, as we saw in the mental health example. With these tools, allied healthcare clinics are more readily able to deliver care in a way that patients appreciate and feel more involved, which in turn can help produce better outcomes. 
What is Patient Engagement in Healthcare?
Now that we've answered 'what is patient engagement', we can look to increase engagement and create an enriching patient experience. 
Adracare has a wealth of experience developing telehealth and practice management software that excel's at fostering patient engagement. If you're looking to boost patient engagement, our all-in-one telemedicine platform offers:
Fully HIPAA, PIPEDA, GDPR, and APP-compliant lines of communication
Virtual video session hosting
Online appointment booking
And more
With Adracare, your client can easily schedule appointments, then swap back to social media surfing in the span of a few moments. Plus, it facilitates contactless communication, so you can safely maintain proper levels of care during COVID-19.
Our platform provides 24/7 access to check and respond to messages at your and your patients' convenience. Patients have anytime-access to their medical records, so they can more actively participate in the healthcare process, which in turn can improve patient outcomes at your clinic. 
Contact Adracare today to learn more about how our cloud-based telemedicine platform can improve patient engagement and benefit your practice.